Looking for a unique T-shirt? Pick up a Buddy the Ambassadog shirt for just $20 at Swain's, Necessities and Temptations and Jim's Pharmacy. All proceeds benefit the shelter's Dig Deep capital campaign.
At the Olympic Peninsula Humane Society, we are committed to caring for and finding permanent homes for the homeless animals of Clallam County. As an open admission shelter, we take in any animal that is brought to us. We do not turn animals away. Each year approximately 2,000 animals are brought into the shelter. We rely on the generosity of our community to help care for our residents. Thank you to everyone who makes a donation or adopts an animal into your family.
Pet of the Week: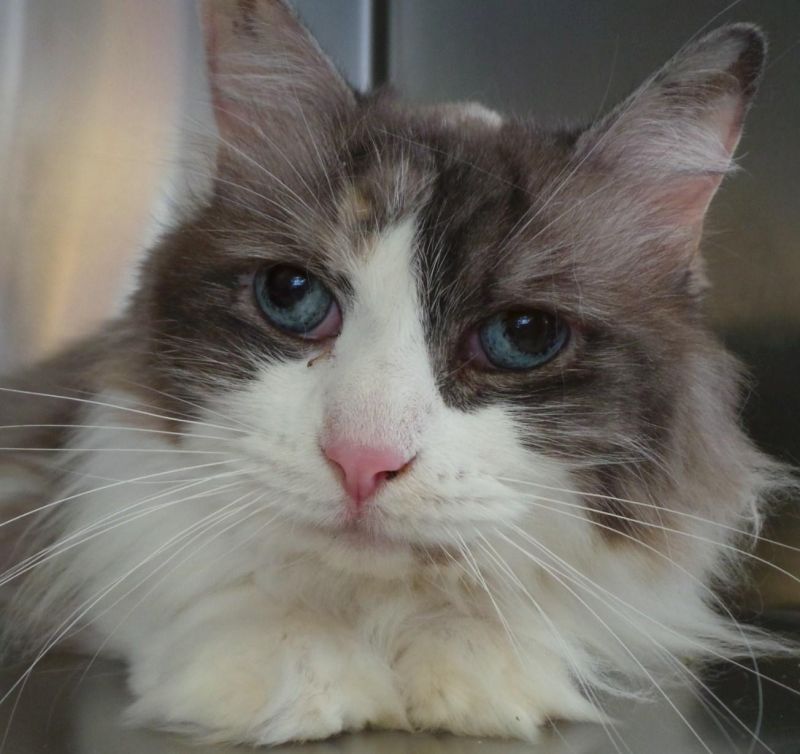 Athena knows her name well and all you have to do is call out to her and she rolls over and prepares for her most favorite thing in the world; being petted. Athena is a friendly declawed kitty who needs to live indoors just as she already has for her 11 years of life. Athena is a kitty that's friendly and good with all people and animals; adults, children, strangers, cats and dogs. Even though all the dog barking is reaching her limits of tolerance, she is sweet and gentle with people. But as we say, all you have to do is say her name and talk to her and she melts. She's just a friendly and gentle kitty looking to get back into a home environment once again. Athena is a calm and gentle girl who likes being held and cuddled and would be an affectionate lap cat. Athena has beautiful blue eyes and a silky coat of mixed colors; there's gray and white along with a small amount of tan blended in. She almost looks like a dilute calico but she has the blue eyes of a Siamese; she's quite extraordinary in color markings. Athena is a gorgeous, sweet and friendly declawed kitty. She would be a fine mature house cat.